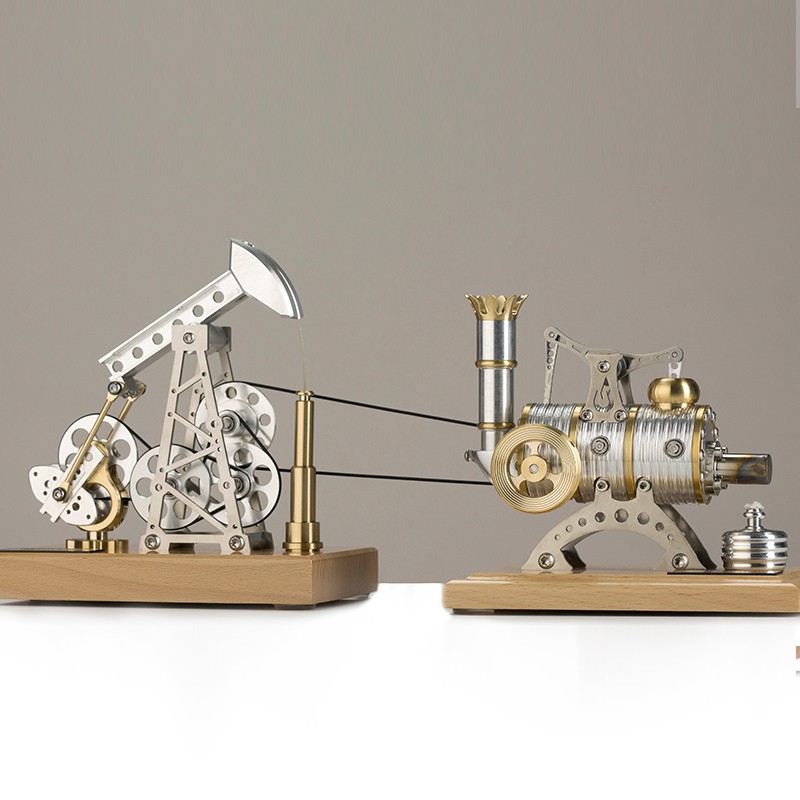  
Stirling Engine HB5 - Power Plant + TP1-Texas Pumpjack
HB5 Impressively powerful. Well chilled, this power package does not get out of breath!
TP1 - In Texas they say "nodding donkey" or pumpjack!
With 5 lifting and 3 speed settings you have 15 opportunities to promote their own "oil", which is fun, that's fun!
Data sheet
ADDITIONAL INFORMATION

TP1: 5 threads for adjusting the stroke small and large.

FUEL HB5

94 - 95 methylated spirits (uncolored)

RUNNING TIME HB5

approx. 10 min.

ROTATIONAL FREQUENCY RANGE HB5

max. 2000 rpm. Can be regulated to run slowly

DIMENSIONS HB5 + TP1

16 cm x 11 cm x 14,5 cm + 17 cm x 15,8 cm x 10,8 cm

WEIGHT HB5 + TP1

950 g + 608 g

MATERIALS HB5 + TP1

Brass, stainless steel, aluminum + Stainless steel screws & guide components; brass Piston & wheels Aluminium, Steel Parts (all stainless steel), beech light

CONTENTS OF ASSEMBLY KIT HB5 + TP1

131 Individual parts, including two 110 x 1,5 mm drive belts, 88 individual parts which 8 of them are ball bearings.

ASSEMBLY TIME HB5 + TP1

approx. 90 min, approx. 90 min.
Customers who bought this product also bought: