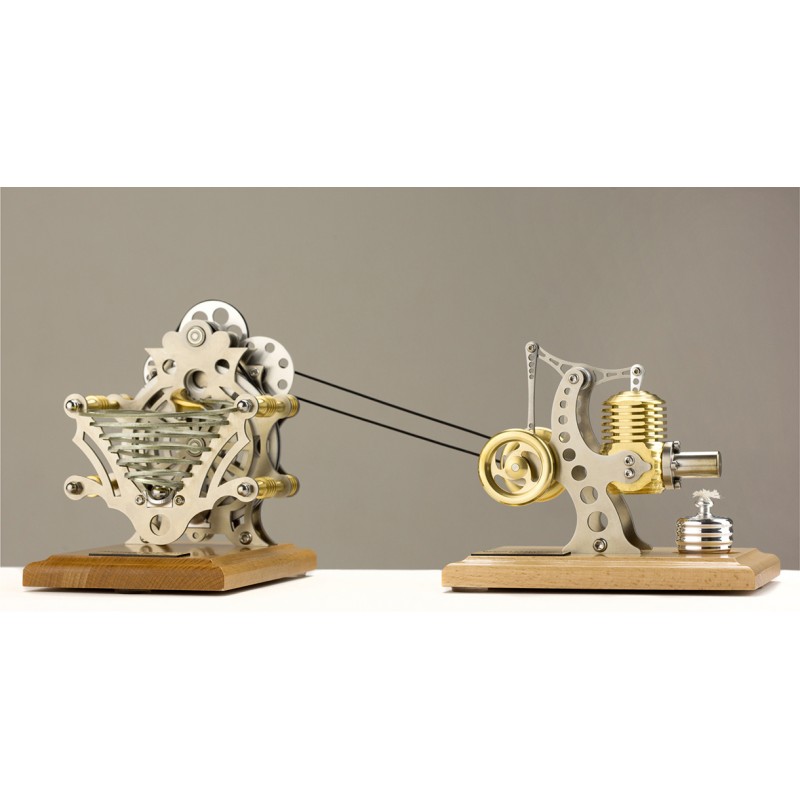  
Stirling Engine HB11 - Little Pump + ROLL-1 Steampunk marble machine
HB11 - The most sold Böhm-Stirling convinces with its unique charm
ROLL-1 - Böhms entry into the world of marble machines is a real eye-catcher for both young and old; follow the 8 marbles in the tornado loop, be amazed by the marble machine!
Data sheet
ADDITIONAL INFORMATION

Roll-1: 3 speed adjustable with a belt wheel Direction, clockwise or counterclockwise

DIMENSIONS HB11 + ROLL-1

13 cm x 15,6 cm x 10,8 cm + 15,8 cm x 10,8 cm x 15,4 cm

WEIGHT HB11 + ROLL-1

900 g + 850 g

MATERIALS HB11 + ROLL-1

Stainless steel screws, stainless steel guide components, massive brass wheels and cylinder + Brass, steel marbles 9,5mm, stainless steel sides, aluminium drive wheels

RUNNING TIME HB11

approx. 10 min.

FUEL HB11

94 - 96 % methylated spirits (uncolored)

ROTATIONAL FREQUENCY RANGE HB11

800—2000 Rev/min (depending on flame size and spacing)

CONTENTS OF ASSEMBLY KIT HB11 + ROLL-1

56 pieces, of which 4 ball bearings, 100 pieces of which 4 are ball bearings

ASSEMBLY TIME HB11 + ROLL-1

approx. 90 Min, approx. 90 Min.
Customers who bought this product also bought: